School News
Please come along to our summer fayre - Friday 22nd June 3:30pm to 6pm. Everyone welcome. Children can come in non-school uniform on Friday in exchange for a tombola prize.
What a week it was last week!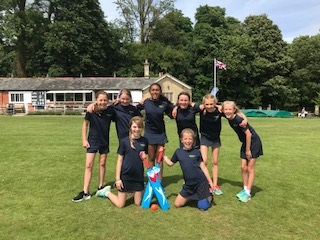 We are very proud to announce that we have two cricket teams through to the County Finals at Cheltenham College this Friday.
After lots of nail-biting moments, smashing sixes and brilliant teamwork both the Mixed Y5/6 team and the Girls Y5/6 team are through to the next stage.
All children showed great sportsmanship, spirit and positive energy at Cirencester Cricket Club. Adults from Rodborough Primary School also commented how caring and supportive our children were of their teams and loved hearing the positive comments from St Mary's.
Wishing you all the best for this Friday - we know you can do this!
Stay strong, believe in yourselves and enjoy the day.
Bring the goosebumps and butterflies :)
You may be aware that Data Protection laws are changing. St Mary's is committed to the protection of all personal and sensitive data for which it holds responsibility as the Data Controller.
So the big day was yesterday and what an amazing evening it was.
Next week is Wellbeing Week. The children will be taking part in a wide range of wellbeing activites each day therefore please can children come into school in PE kits every day.
St Mary's 10k runners in the Wilts & Gloucerstershire Standard.
21 parents, staff and governors will be running the Westonbirt 10k on 23rd May to raise money for the refurbishment of our school hall.
If you have a toddler or pre-school child please join us for a Muddy Puddle Walk to raise money for Save the Children.
On Tuesday, children in years 3 and 4 enjoyed an Easter treat at St Mary's Church. Each class was greeted by Poppy who shared the Easter story.
This week we had a visit from outer space, from the Explorer Dome.