Our Curriculum
Curriculum Intent
At St Mary's Primary School, we believe our children deserve a curriculum that is ambitious, engaging and inspiring. We understand that education is the key to success in life therefore our curriculum has been carefully considered and designed to provide learning opportunities that meet the needs of all our children, encouraging them to reach their full potential irrespective of their starting points.
We endeavour to make knowledge stick, therefore our aim is to ensure that children leave us with the knowledge and skills, resilience and confidence to be happy and successful as they continue their journey from education into the workplace and society in Modern Britain.
Ultimately, our curriculum helps children to develop a lifelong love of learning, enabling them to learn more, do more and remember more.
Reading
Our reading curriculum supports children to foster a love of reading, learn independently by reading for information and learn the necessary skills to help let their imaginations flourish. We aim to embed a culture where books, vocabulary and reading take priority, enabling children to become fluent and confident readers. We recognise how important it is to develop a passion for reading in our children, to enable them to be successful learners in all areas of the curriculum and in life beyond our school.
Phonics
In Early Years and Key Stage 1, the children are taught how to read using a synthetic phonics programme.Phonics is taught in four hour-long sessions each week in homogenous, fluid groups. We use 'Read, Write, Inc.' which is an engaging and rigorous approach to teaching early reading and writing.
Read Write Inc. is a progressive phonics scheme which begins when children start school in Reception. Children work through the scheme of learning in a progressive manner until they can confidently read and understand a text.
The scheme also supports children's writing by giving them the tools to spell and compose.
Synthetic phonics is a way of teaching reading. The children learn the sounds that written letters (or groups of letters) represent and how to blend them together to make words. There are 26 letters but they make 44 sounds.
Some words cannot be sounded out as they do not follow the phonics rule. Examples are 'the', 'into', 'magic, 'come'. Therefore these are taught as Red Words within Read, Write, Inc. We teach them as sight words and the more children are exposed to them, the more they are instilled in their working memory.
Lesson Structure
Daily phonics lessons are split into different sections as follows:
A speed sound session – where children revise previously taught sounds and learn new sounds (they will also practice handwriting the letters within sounds and words)
A word time session – where children practice high frequency words, words from the story and red words (sight words that cannot be sounded out)
A story session – where children read an ability matched text, first to decode, then for fluency and finally to develop a story-teller voice for expression and intonation.
A writing session – where they write sentences and short compositions based on the story they have been reading.
Children will answer comprehension questions about what has happened in the story and vocabulary will be explored.
This short video explains a little more about Read Write Inc.
https://www.youtube.com/watch?v=sjlPILhk7bQ
Reading at Home
At St Mary's we want children to learn to read and read to learn. We encourage all our pupils to develop a lifelong love of reading.
This is where we need your help as parents. The best way to become a fluent, confident reader is by practising. As with most things, practice makes perfect. Children need to read to an adult at home at least 3 times a week, (this is the minimum we ask). Re-reading the same book will help children to become more fluent, confident readers who can use their 'story teller' voice when they are reading out loud to make it engaging for the listener.
Reading books are carefully matched to your child's reading ability. To begin with, children receive books without words and they are encouraged to describe what is happening in the pictures, predict what might happen next and to make a story of their own to match the pictures.
Once the children have learnt the majority of the single letter sounds they will be introduced to books with simple words to blend and read using their phonic knowledge. Once the children know all their single letter sounds and the first digraphs, (two letters which make one sound, sh, qu, ch, th, ng, nk, ck), they will progress onto books that contain those sounds. We then continue to teach the next set of digraphs (ay, ee, igh, ow, oo/oo, or, ou, air, oy, ar, ir) as when the children are ready. As they learn each new set they are then able to access the next level of reading book. We have carefully read each book to check which sounds they contain and have labelled them with our own banding system from lilac to black, to pink, to red and then finally yellow. They contain a mixture of books from different reading schemes but will ONLY contain the sounds your child has been TAUGHT (even if they have not yet retained all the sounds, they will be able to practice them in these books). Once your child has been taught all 44 sounds they can progress through the other colours in the reading scheme at the class teacher's discretion. We ensure that reading books sent home are closely matched to the level of books children are reading in their phonics groups.
Children in Year 2, who have completed the RWI scheme and are proficient readers, are assessed and moved onto Accelerated Reader. If a child is not ready for this, they will remain on the colour band system outlined above.
In Key stage 2, reading is taught in three guided reading sessions that are a balance between practising reading fluency, discussion based learning and written comprehension. In guided reading lessons, children learn the skills of reading, through VIPERS. VIPERS is an acronym, which aids the recall of the 6 reading domains from the reading curriculum (see below). These are the key areas that children need to know and understand in order to improve their comprehension of texts.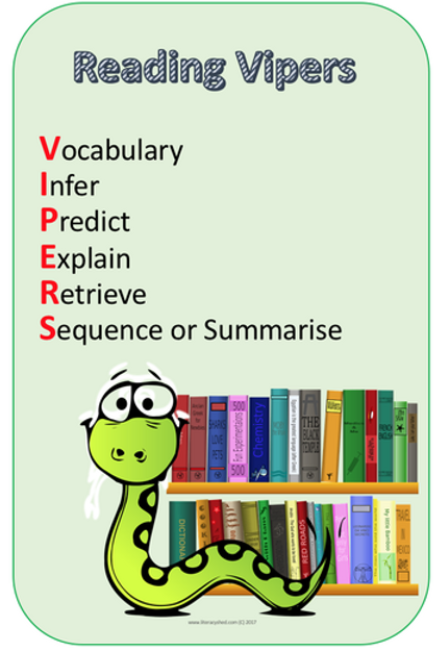 In guided reading lessons, children access high quality texts from a wide range of genres. These may be extracts from a class book (which is read every day), poems from our poetry spine or extracts from The Literacy Shed. Texts are carefully chosen to enrich pupils' reading experience, whether they are reading fiction texts or reading for information and teachers make sure to identify links with other curriculum areas where appropriate. Pupils access one text per week answering VIPERS questions based on that text. ​
We also believe that teaching children to read fluently is vital since fluency is the bridge between word recognition and comprehension. Therefore, fluency is explicitly taught within Guided Reading sessions using a range of methods:
Teachers activate pupils' prior knowledge to ensure they understand the context of the extract. This helps to 'set the scene' in the children's minds
Teachers read the text aloud modelling expert prosody
Pupils are encouraged to develop their own performance reading voice, emulating the teachers' pace, pitch, passion, pause, power and use of punctuation. At St Mary's we call these the '6Ps'
The use of Echo reading where pupils practise reading trickier sentences or paragraphs after listening to the teacher
Text marking where pupils annotate the text using agreed symbols which represent the 6Ps
Pupils read the text with a response partner who offers feedback about what went well and what might be improved next time
In lessons, pupils are given time to read their extract multiple times aiming for greater fluency each time.
Reading Books
We use a variety of reading schemes to support children in their reading. The school recognises that whilst learning discrete reading skills is vital, children also need to develop a love of books and reading. The school builds time for children to read during the school day (DEAR- drop everything and read) and promotes reading at home. Every teacher in the school is an advocate for reading and the school celebrates reading through events, author visits, book groups and book recommendations. As well as this, children are regularly heard read aloud by an adult in EYFS/KS1 and as regularly as possible in KS2.
Children in year 2 to 6 follow Accelerated Reader-a reading management and monitoring programme that aims to foster independent reading. The programme assesses pupils' reading age and gives them a ZPD code that helps pupils select books that offer appropriate challenge. Pupils take a computerised quiz once they have finished a book. Accelerated Reader provides immediate and regular feedback to children; allows teachers to make in depth, accurate assessments of children's reading and most importantly, helps foster a love of reading. Children are able to choose books within their level from beautiful classroom book corners, or our fantastic library-The Den. Parents are encouraged to extend the culture of reading into the home and are offered support in helping their children to read from a young age in phonics meetings that are held regularly.
For information on some of the books teachers use, please click here.
This KS2 reading guide gives some top tips to help you enjoy reading with your child at home.
We also hold regular 'Breakfast with a Book' events whereby parents, carers, grandparents and friends can share a book with the children. Please keep a look out for the next date which will be announced in the reading newsletter.Reading Newsletter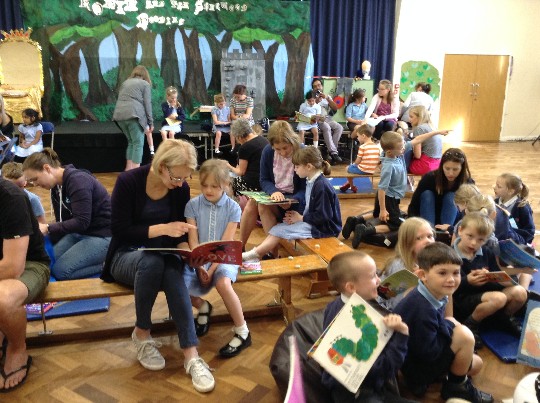 The Reading Shed
We are delighted that our Reading Shed is now open! All children have access to the Reading Shed which is open at breaktimes and looked after by our wonderful Reading Ambassadors.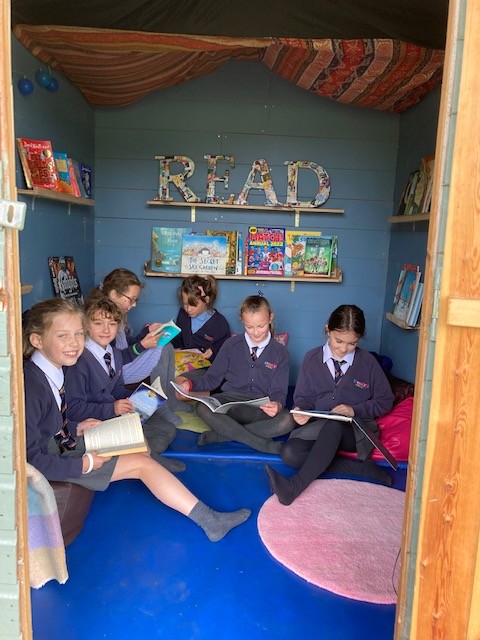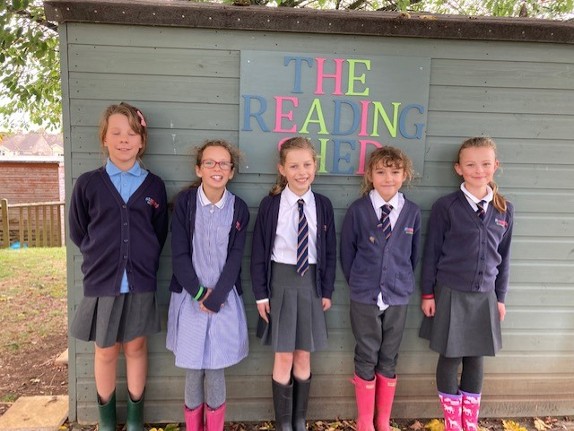 In EYFS, children take it in turns to take home the Red Reading Suitcase and read to Percy the dog. The suitcase contains several beautiful reading books, Percy(

our very cuddly reading dog who loves stories) and sachets of hot chocolate. Children love sharing these stories and enjoy drawing pictures about what they have read in the reading diary.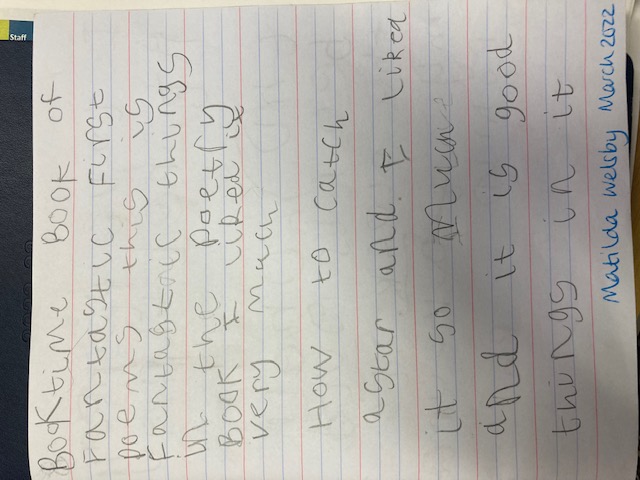 Writing
At St Mary's, we aim for all children to leave us with the right tools and skills ready to start their new phase of learning in secondary school and life beyond school. In addition, we endeavour to instil a love of writing in our children that will stay with them through all phases of their lives. We do this by following the National Curriculum (NC) for English – speaking and listening, reading and writing.
Writing is taught every day and teachers plan sequences of lessons to build towards longer writing outcomes. Writing units of work are taught through reading and sharing high quality, language rich books and texts. Each term, staff create Reading Roads, to explain how key texts enhance our English and wider curriculum. There is a balance between fiction, non-fiction and poetry with an emphasis on whole texts. Text selection is purposeful to promote a love of reading, engagement and to ensure high quality writing outcomes for every child.
In EYFS, we teach basic writing skills through RWI lessons. From year 1, children also have an additional daily writing lesson.
Writing in RWI lessons is based on the books read in the sessions and will be structured to follow the RWI scheme of learning. Writing in English lessons will then incorporate opportunities for more imaginative writing linked to class topics. These lessons may include elements of the Talk4Writing methods (story mapping, innovation, boxing up) but will also reinforce the basic skills taught in RWI sessions.
For skills progression in writing from Y1 – Y6 we follow the National Curriculum. We teach writing skills as specified by the National Curriculum and follow the guidelines for age related content. Our outcomes for writing follow four key principles: to entertain, to inform, to discuss and to persuade, and spelling and grammar skills are linked through writing units following our own scheme of work.
We believe it is vital children have a reason to write and someone to write for therefore planning is modelled on the following documents:
The 2014 National Curriculum
Michael Tidd's Four Purposes For Writing
The EEF document

Improving Writing at KS1/2

Talk For Writing- strategies to support the planning and drafting processes
The recommendations of the EEF suggest that the teaching of writing is separated into 5 strands.
Planning- generate content from reading, previous knowledge and class discussion
Drafting- select words and phrases that accurately convey ideas. Magpie language.
Revising- Make changes to text based on feedback from others
Editing-make changes to improve punctuation, vocabulary and grammar through feedback, self-assessment and peer marking
Publishing-produce a final written copy to share and display
Writing is a process and therefore it is important that teachers model and explicitly teach all elements. Each short term, one narrative unit and two non- fiction units of writing are taught with opportunities for Cross- curricular writing considered.
Learning to write well is a complex process so the following strategies help develop pupils' skills and confidence as writers.
Shared Writing:
Model the writing process for children, including the thought processes involved in authoring a text
Make explicit teaching points in relation to secretarial and compositional aspects of writing
Provide pupils with the opportunity to reflect on their writing – using what they have learned about structure and language features from their reading to inform their writing
Provide an opportunity for pupils to develop and use language to talk about writing.
Guided Writing
Make explicit teaching points to all pupils
Support pupils in orchestrating elements of the writing process simultaneously
Provide opportunities to participate in writing composition
Help pupils build up a language to talk about writing
Independent Writing
Teachers provide frequent opportunities within lessons for children to experiment and apply their growing knowledge and skills in writing
Children are required to work independently of the teacher in these sessions, although support from other pupils or adults will be encouraged.
Therefore to develop our children as writers we:
Treat children as writers from the earliest stage, who have ideas that they want to communicate, building on writing skills that they have acquired.
Provide experiences where children develop confidence and a positive attitude to writing.
Develop and sustain writing skills by providing opportunities for children to write for a range of audiences and purposes
Use guided and shared writing sessions to model writing skills, teaching children how to compose, amend and revise their writing.
Teach children how to become critical readers of their own writing, checking their own work independently for sense, accuracy and meaning.
Teach grammar and punctuation in the context of the children's own writing, as well as through discrete lessons.
Teach strategies for spelling to enable children to become confident and competent spellers.
Pupils have opportunities to publish their work each term.
Handwriting
We believe that it is important for children to develop their handwriting at primary school so that when they leave us they are able to form their letters properly and consistently and use a fluent joined style. From the summer term in EYFS,we teach handwriting using the Letter Join scheme of work. Initially, children in Early Years are taught 'Funky Fingers' and 'Pen Disco' activities to help develop motor skill control and aid pencil grip. Year 1 children are taught pre-cursive writing where letters include 'feeder-leaders' or 'zooms and flicks'. This enables children to join up more easily when they are ready and this, in turn, aids children with their fluency and spelling as they progress through the school. For further information please have a look at our pencil grip, letter formation and Handwriting Policy documents.
Maths
At St Mary's we believe that every child is capable of being a successful mathematician. Maths is a subject critical to a child's development as it introduces children to concepts and skills that are essential to their everyday life and supports learning across the curriculum. We strive to create a supportive learning environment where all children can confidently learn and achieve.
What learning in Maths looks like at St Mary's
Early Bird Maths Session:
From Year 2 to Year 6 our day (with the exception of Thursday) begins with 'Early Bird' Maths. For the first 15 minutes of the day, children develop their fluency of key arithmetic skills. As a priority, we ensure daily practise of times table and related division facts relevant to their year. Please click on the link to view our times tables progression grid Time tables Progression.We aim for all children to be fluent in understanding and recalling times table and division facts up to 12 x 12 by the end of Year 4 and to continue to maintain this fluency in Years 5 and 6. Further Early Bird learning focuses on refreshing key skills taught during the year and previous years, if needed.
The Daily Maths lesson:
Each day the children have the opportunity to make a new step on their learning journey through our main Maths lesson. We use the White Rose Maths Scheme of Work for our progression through the areas of Maths learning. Please click on the link to see year group overviews White Rose Year group Overviews
Addition and subtraction calculation policy WRM
Multiplication and division calculation policy WRM
During this session, the children will have time to learn a new concept or skill and practise applying this during whole class discussions and activities, where misconceptions can be noticed and addressed. Following this, all children will have the opportunity to apply their new learning more independently with work that challenges and engages them. Wherever possible, all children in the class will begin their work at the same point.
From Year 1 to Year 6, the children's work will usually move through three stages that we call the 'Do it', 'Secure it' and 'Deepen it'.
The 'Do it' - This will be no more than 6 questions giving the children the opportunity to practise and show their fluency with the new learning with only slight variation in the questions.
The 'Secure it' - This is the opportunity for the children to reason using what they've learned to help them understand and explain mistakes.
The 'Deepen it'- This is a chance to develop flexible thinking and problem-solving skills. It may involve children applying their learning to a challenging, unfamiliar context sometimes with a range of potential answers. At this stage, children may also need to use the more challenging skills of convincing and proving.
Mastering Number:
We are using the NCETM (National Centre for Excellence in the Teaching of Mathematics) Mastering Number initiative. This initiative is designed for Reception, Year 1 and Year 2 children and aims to develop fluency in number facts as well as a flexibility with number that employs reasoning about mathematical structure and relationships. The children take part in sessions (approximately 15 minutes) using practical resources, including the rekenrek, that will allow them to embed the number facts and relationships between numbers through visual aids before moving to more abstract work.
For more information on how you can help your child with maths at home, view our helpful tips for KS1 and KS2.
RE
As a Church of England School, RE is seen as a highly valued academic subject that enables understanding of how religion and beliefs affect our lives. At the heart of RE teaching in our school is the teaching of Christianity and pupils also learn about other faiths and world views. Teachers plan units of work using the Gloucestershire Agreed Syllabus for RE and the 'Understanding Christianity' resources. For further information about 'Understanding Christianity' click here.
Science
Our Vision for Science at St Mary's is that Life should be lived in all it's fullness (John 10:10) and so science should be full of 'Wow' moments! Science should light the flame of curiosity. Science should be fun as we discover more about the world around us. Everybody is inspired by the awe and wonder of God's amazing world. Click here to view our Vision and Principles for Science teaching at St. Marys.
Children across KS1 and KS2 are taught science concepts taken from the National Curriculum for Science. A core principle of science teaching at St. Mary's is working in role as a scientist, encouraging all children to feel they too could be a scientist. To this end, children take part in a 'TAPS' (Teacher Assessment in Primary Science) lesson each term. These lessons teach children to Work Scientifically across a range different experiments and build on these skills year after year. For further infomation on the topics taught in each Key Stage please click EYFS, KS1, KS2.
Computing
At St Mary's Primary School, we understand that digital technology is everywhere and an ever increasing part of everyday life at home, school and in the wider world. As a result of this we follow the national curriculum for computing and provide a computing curriculum which is supported by the use of Purple Mash. This allows us to not only teach the computing curriculum but embed skills in other areas of the curriculum too. Children encounter a rapidly changing world where computing technology is at the forefront and our curriculum will prepare them for this by ensuring coverage of the three main strands of computer science, information technology and digital literacy. All children, including disadvantaged and those with special educational needs will learn the function and uses of a wide range of programmes and technology, be able to apply those skills and showcase their creativity in doing so. We have ipads and laptop trolleys available to both key stages as well as other digital resources used across the school that support the children's learning.
PSHE
PSHE is the part of the curriculum where children learn about Personal, Social, Health and Economic education, emotional literacy, social skills and spiritual development. Through PSHE we aim to help children know and value who they really are and how they relate to other people in an ever-changing world. At St. Mary's we use the 'Jigsaw' scheme for teaching PSHE, each term the whole school follows the same 'Jigsaw Puzzle' which is introduced through a whole school Collective Worship.
To see the Jigsaw scheme of learning, please click here: PHSE Jigsaw overview
For more information about Relationships, Sex and Health Education, please click here.
History and Geography
Children are taught history and geography in KS1 and KS2 through a topic based approach. These subjects will alternate each short term over the year. From year 1, we use the Kapow scheme of learning for geography. As Geographers the children will develop their locational knowledge, place knowledge and their understanding of human and physical geography. They will also use the school grounds and beyond to improve their field study skills. please click below to see the 3I's document and the progression document:
Intent, Implementation and Impact document
Geography Progression document
As Historians children will gain a coherent knowledge and understanding of Britain's past and that of the wider world. We will encourage pupils' curiosity to know more about the past by equipping pupils to ask perceptive questions, think critically, weigh evidence, sift arguments, and develop perspective and judgement. Please click here for our current curriculum overviews to see which topics are taught across the Key Stages.
Art
"Every child is an artist." – Pablo Picasso
Art at St Mary's is taught using the AccessArt Curriculum in order to offer our children a broad, rich, contemporary and diverse experience. We aim to build knowledge and understanding by developing technical skills and imaginations so that our children feel able to embrace their own creativity with courage and confidence. Each year, children experience three units of art which encourage a variety of skills from drawing and painting to designing and making. Our children are exposed to a diverse range of artists to inspire curiosity before developing their own ideas within their personal sketchbooks. We aim to create a caring environment in which our children feel able to share their creative experiences with their peers, allowing for critique and self-reflection.
Please find an overview of our curriculum here:
Design Technology
Our vision for Design and Technology (DT) at St. Mary's is that pupils are inspired to use their curiosity, creativity and imagination to solve real problems in a variety of contexts. Pupils take inspiration from past and present invention, appreciating the value of DT in day-to-day life. They are encouraged to have the courage to take risks and they understand that part of DT is overcoming challenges. Pupils understand how DT encompasses many other subjects, such as science and art, whilst also possessing discrete skills in its own right. Through DT, pupils develop their: creativity, curiousity and courage.
PE
PE is a vital component in the development of children's physical and emotional health and well-being. PE enables children to learn and develop confidence, perseverance, sportsmanship, positive competitiveness and organisation. At St Mary's, we encourage the children to demonstrate the school values in physical education by being courageous when applying and developing a broad range of skills, learning how to use them in different ways. Additionally, the children demonstrate curiosity when developing fundamental movement skills and become increasingly competent and confident; able to access a broad range of opportunities to extend their agility, balance and coordination, individually and with others. We promote positive behaviour and encourage the children to be caring towards each other's when engaging in competitive and co-operative activities. We are committed to establishing links with local clusters, secondary schools and extra-curricular activities promoted by the school, which enables children from all key-stages the ability to participate and gain a sense of achievement from a broad range of sports. To view our PE curriculum, please click the links below:
Modern foreign Languages
Children in KS2 are taught French every week by a specialist teacher. They are encouraged to listen and show understanding by joining in and responding, they learn French songs and engage in simple conversation in French. Please click the link below to see our curriculum overview:
Music
Music at St Mary's aims to create a love of music. We teach music weekly on alternate terms, have a 'Composer of the Term' to broaden our awareness of genres and enjoy regular singing assemblies with our music lead teacher.
Music teaching fosters creativity and enjoyment as well develops musical skills and expression. Music is an inclusive subject not limited to ability in other subjects. All children have the ability to access the music curriculum through differentiation and inclusive activities. Children perform through song or instrumentation every lesson, building confidence and enjoyment.
At St Mary's we use a scheme of work, Charanga, which follows the National Curriculum and explores the new Model Music Curriculum. The activities and games included in the scheme cover the musical dimensions, (pulse, rhythm, pitch etc) through singing and playing instruments, listening and creating music. These are all then linked through a central song or piece.
Please click the link below see the music overview:
Forest School
Forest Schools is part of our curriculum and takes place within our very own woodland/pond area towards the rear of the school field and runs on Fridays throughout the school year.
Assessment
We use two methods of assessing children at St. Mary's: Formative assessment and Summative assessment.
Formative assessment is what the teachers are doing all the time when they are teaching the children. Teaching staff constantly make judgements about how well the children are acquiring knowledge, skills and understanding through observing them in their work and play, through carefully planned and constructed questioning and through marking or going through their work with them. These judgements inform what the teachers will teach the children next depending on how well the children are progressing and developing.
We also test the children at different points during the year using published tests as well as teacher devised tests. These tests give a score and tell us how well a child is doing compared to other children and how well they may do in end of Key Stage tests. At St. Mary's we use the following tests:
BASE Test (CEM) Reception baseline assessment
NGRT (Reading Test)
NGST (Spelling Test)
CATS (Cognitive Abilities Test Year 3 and Year 5)
GL Assessment Progress Tests in Maths and English (Y1, 3, 4 and 5)
In addition the children sit the statutory Phonics Screening Check in Year 1 and SATS tests at the end of KS1 (Y2) and KS2 (Y6).
If parents wish to discuss the results of any tests they should make an appointment to do so with the class teacher or Mrs Woolley.
Seesaw
During the course of the school day, there are often times when there is great learning happening but which is hard to show in a book. Whether it is drama, gymnastics or a mathematical explanation, it is important to try and capture some of these key learning moments. Therefore, we use the online system Seesaw to capture pictures and videos of children's learning. These are collected in a child's individual online portfolio. Once a child's work has been approved by the teacher, parents can opt in to receive updates on their child's work at school. This allows families to see a snapshot of their child's work, which they would otherwise miss.
Further information
Periodically we hold information evenings for parents where we share information about how we teach and how children learn. Please see below for links to resources from these sessions.
Year 2 and Year 6 SATS
Children in Year 2 and Year 6 take part in end of key stage national curriculum tests (SATS) in May.
They are not qualifications and don't affect the children's future options in school. The results of these tests are used to ensure schools are teaching pupils the essential knowledge and skills required by the National Curriculum.
Further information can be found on the Government website.