School News
St Mary's has enjoyed a fantastic World Book Day today.
---
Everyone made a huge effort to dress up as their favourite book character and all classes enjoyed a mystery reader before spending time talking about and celebrating some of their most-loved books.
We'd like to say thank you to everybody who dressed up today and give a special thank you to all the parents, relatives and friends who made such an effort to create the most beautiful costumes.
Don't forget that the Scholastic Book Fair is taking place in the hall from Thursday 2nd March until Wednesday 8th March.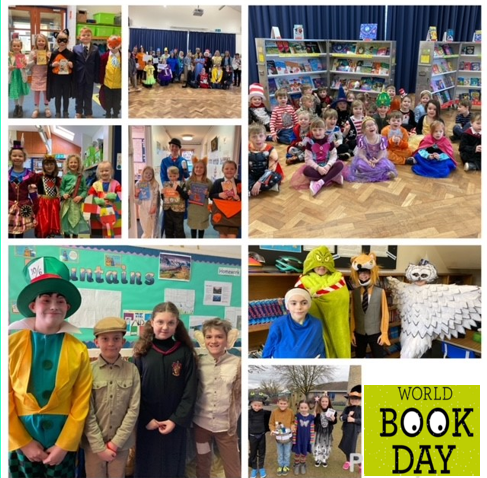 Please come along after school to browse the brilliant range of books that will be on offer. We look forward to seeing you there.
We were delighted to recieve this thank you letter from Shelter.
---
Dear St Mary's Primary School.
I am getting in touch to say a huge personal and heart felt thank you to you and everyone at St Mary's School for the very generous donation of £150.00 following your Christmas carols in the snow last year. Your support is much appreciated.
Here are a few examples of how your money could be used:
£15 could pay for a webchat for someone tackling homelessness
£20 could pay for a call to our helpline
£100 could pay for 4 face to face chats with an advisor
Thank you for your support. I am based locally so if you feel that it would be beneficial for me to pop in to school to tell you and the pupils more about Shelter or if you and the team would like to do more fabulous fundraising for us, please do not hesitate to get in touch.
With very best wishes
Julie Kemp
Regional Community Fundraiser - Bristol
Our Yr 5/6 Young Voices choir has such an amazing night on Friday performing as part of one the world's largest children's school choirs at the Resorts World Arena in Birmingham.
---
Special guests were Heather Small, Anna Phoebe (violinist), Urban Strides (dancers) and The Beatbox Collective.
It was topped off when some of the children had the chance to have their photograph taken with some of the Urban Strides dancers - this was VERY exciting!!!!
A big shout out to Mrs Pike, Miss Beckett, Miss Kister and Mrs Williams for organising it, teaching them the songs, taking them to Birmingham and giving them such a fantastic experience.
A huge thank you also to the PTFA who funded the cost of the coach to Birmingham.
What a delightful last 2 weeks we have had this term and it has been wonderful to be able welcome parents to join in our Christmas festivities again.
---
In the last two weeks children, staff and parents have enjoyed:
​KS1 children's performance of A Happy Clappy Nativity
EYFS children's performance of a Nativity
Non-school uniform and Christmas jumpers day.
Fun and festive Christmas Lunch.
Christmas singing on the school field.
KS2 Choir entertained customers at the Friendship Cafe
KS2 Talent Show
Wishing everyone a very Merry Christmas and a Happy New Year.
Update - St Mary's will now be closed on Monday 12th December due to road conditions beyond Tetbury.
We hope you have had a lovely day enjoying the snow today. We anticipate being open tomorrow as usual.
Children will need to have suitable coats and wellies in school please.
We are very excited that four St Mary's children will help Mark Lester (the original Oliver) switch on the Tetbury's Christmas Lights on 2nd December.
---
As in previous years St Mary's children were invited by Tetbury Town Council to take part in a competition to create a Christmas tree decoration. The winners are: Mya C, Jory D, Elsa Y and Toby M and they will be switching on the Tetbury Lights this year.
Well done to everyone who entered the competition. All the wonderful entries will be displayed on the Tetbury Town Council Christmas tree at St Saviours Church from the 1st of December till the 3rd of January 2023. Please go and take a look at this tree and the St Mary's Primary school tree.
Earth and Space Day at Westonbirt School
Some of our Year 5 children enjoyed an Earth and Spade Day at Westonbirt School.
---
When I heard about me being selected for Earth and Space day, I knew it would be an amazing day and I knew it would be so much fun.
My favourite part of the visit was in the space dome where we did some star spotting.
Also, I found out some interesting facts I didn't known about meteors. We did an experiment where we dropped marbles into sand to learn about crater impacts.
At break time, we were given space chocolate cookies which were delicious. Westonbirt School was so big and grand. I had so much fun.
By Scarlett
Our Year 6 children lead the tours of our school as we welcomed prospective parents to our Open Morning.
---
Thank you to everyone who was able to join us for our Open Morning, we enjoyed meeting everyone.
Alongside a presentation from Mrs Woolley parents were given a tour of the school from Reception classes to Forest school and all areas in between by our Year 6 pupils.
If you have a child who is due to start school in September 2023 and you were unable to join us please do get in touch to ask any questions and to arrange to see the school at an alternative time.
During November you will receive a letter/email from Gloucestershire County Council with all the details you will need on how to apply for a school place for your son/daughter and the link below will give you the time table for this process. If you do not receive this communication from Gloucestershire County Council please do get in touch with them.
Admission to reception at Primary school/Year 3 Junior School & lower to middle school places for September 2023 - Gloucestershire County Council
Please take a look at our website to find out more information on our curriculum, extracurricular clubs, wrap-around care, newsletters (under The Office -Communications) to read about the things our children are involved in, and to find out much more about our school. www.stmarystetbury.com
We would like to invite prospective parents to our Open Morning on Wednesday 19th October 2022.
---
If you have a child due to start school in September 2023, we would be delighted to welcome you to our Open Day on Wednesday 19th October 2022.
Please use this link to book a time to come and visit our fabulous school. We look forward to seeing you!