Spirituality at St. Mary's
The importance of spiritual development.
It has never been more important than it is today for schools to teach children how to connect with themselves, each other and the world in a human way.
At St. Mary's, children learn about the Christian understanding that we are all valued and uniquely made by God. We provide opportunities for children to explore their thoughts and feelings about themselves, their relationships with others and the world in which they live.
We use the image of a water lily to describe our spirituality and what we can do to support spiritual growth.
The idea is that the flower grows on the water. We describe the flower as 'the me you see'. Children learn that there is much more to people that we don't see.
The water lily has roots which feed and sustain it – we have thoughts, beliefs and values which sustain us.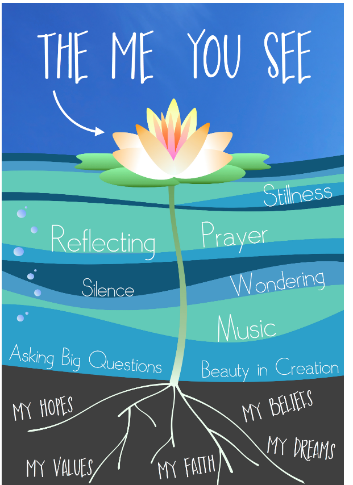 The water lily lives in the water which helps the plant to flourish and grow and in our spiritual life, we do things that help us connect with our thoughts, belief and values like reflecting, praying, listening to music, walking, silence.
Children are provided with opportunities to learn about the feelings we have inside that 'make us us.' These include 'Wow' moments, 'Ow' moments and 'Now' moments.
Finding the 'Wow' moments
The school provides opportunities for children to share and celebrate exciting things – things we are curious about including the beauty of God's natural world, music, art and silence.
Helping with the 'Ow' moments
The school provides time for children to talk to adults when they feel hurt. We recognize the 'Ow' moments and encourage children to use forgiveness, love, prayer and reflection to make sense of hurtful events.
Noticing the 'Now' moments
We provide opportunities for stillness and reflection at different times in the week. Children are encouraged to practice silence and prayer through the use of prayer spaces.