School News
The PTFA would love everyone to join them in celebrating the end of term by taking part in a non-uniform day this Friday 22nd October.
---
Children may wear what makes them happy and comfortable. However, all clothes and footwear must be practical for a day of learning and expected weather patterns.
** No fancy dress items are allowed.
We ask for a gold coin in exchange for being allowed to wear non-uniform to raise money for our school. This can be paid via Parentpay or direct to your child's class teacher.
Thank you for your support,
St Mary's PTFA
We are delighted that author and illustrator Hannah Shaw will be visiting St Mary's Primary School on Monday 18th October.
---
Hannah has written numerous book including Unipiggle and Princess Pea, The Scruffs and Stan Stinky and has illustrated her own books as well as others written by Dick King Smith and Julia Donaldson.
During the afternoon, Hannah will talk to children in years 1-3 about her books. Children will learn how to create their own magical stories and then take part in a step-by-step drawing session with characters from the book.
We are very grateful to Herewood from The Yellow-Lighted Bookshop who has helped organise this visit. Children in years 1 -3 can pre-order a copy of Unipiggle or any of Hannah's books. Please contact the YLB as Hannah is happy to sign any books ordered through them.
Back in the spring Mrs Higgs (Teaching Assistant) and Mrs Maisey (Chair of Governors) started a 184 mile challenge to walk the Thames path to raise money for St Mary's.
---
They have spent many weekends walking the Thames path and finished the last leg of this amazing challenge on Saturday 25th September.
WE'VE DONE IT.
It was a grey old day in London... but just amazing! We started off crossing the Millenium Bridge and seeing the Globe, then winding our way around Canary Wharf and the O2 arena, the 12 miles to the barrier were certainly the most industrial terrain we have encountered.
We treated ourselves to a boat trip back up the Thames through the barrier and all the sites we had walked past that day, it was just superb ?
Thank you to all our donators and supporters, if you haven't had a chance to donate yet, the fundraising page is open until 1st October (link here Chris & Liz Walk The Thames (donatemyschool.com) or you can of course pop in to see the office staff to drop in any cash donations.
We will be keeping our social media pages live, as we don't think we have finished with our adventures yet!!
We would like to say a HUGE THANK YOU to the Coventry Building Society for their recent donation of £2,236.
---
Each year the Coventry Building Society in Tetbury donates 1% of the total balances held in their Supporters Accounts (School PTA), this is separate to the interest given to the account holders.
This year this resulted in a donation to the school of £2,236 which we will use to improve the school resources for the benefit of all our children.
Thank you to all the parents and local residents who hold a Supporters Account.
Details of the Supporter Account which is offered by The Coventry Building Society can be found on their website www.thecoventry.co.uk or by phoning their Tetbury branch on 01666 502692.
We are looking forward to starting the new school year on Monday 6th Septmember and to welcoming our new families who are joining us in Reception and other year groups.
This letter explains the arrangements for returning to school on 6th September.
---
The school office will be open between 9am and 3pm on Thursday 2nd September and Friday 3rd September if you have any questions about the new school term. Please ring us on 01666 502275 to speak to us or email us via This email address is being protected from spambots. You need JavaScript enabled to view it.
The government is clear in its intention for every school to be part of a family of schools in a strong multi academy trust. They believe that strong MATs are the best structure to enable schools and teachers to deliver consistently good outcomes for pupils.
---
The Governors of St. Mary's C of E Primary School are keen to ensure that St. Mary's does not become isolated and that we become part of this changing landscape for schools. We are fortunate in that we have the Corinium Education Trust locally and we have been in discussions with their CEO Chiquita Henson and Graham Russell, the Chair of the Trust about joining their MAT.
Letters & Meetings
The letters below are part of start of a consultation process with staff, parents and the wider community.
Consultation Letter to Parents
There will be a TEAMS meeting for parents on Monday 28th June at 6pm to discuss this further. Parents should have recieved an invite to this meeting from the school. If you haven't recieved this invitation please email the school at This email address is being protected from spambots. You need JavaScript enabled to view it.
Consultation Letter to Community
A meeting for members of the community will be held online at 6pm on Wednesday 30th June to discuss the proposal further. Please email This email address is being protected from spambots. You need JavaScript enabled to view it. for a link to this meeting.
Questions
If you have any questions about this consultation please email This email address is being protected from spambots. You need JavaScript enabled to view it. and they will be answer annoymously at our parent and community meetings.
21st June to 30th June is World Wellbeing Week and we are supporting this by selling Happy Hippos.
---
Each Happy Hippo purchased will enable a child in Africa to have 30 pieces of fruit.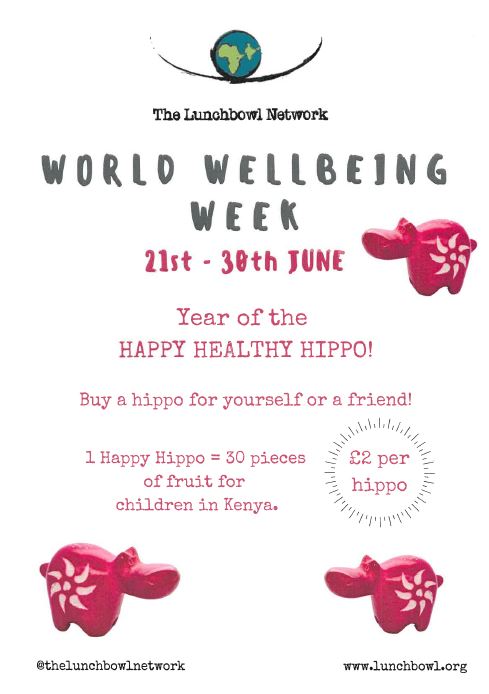 Year 2 children went down to St Mary's church to look at wildlife that was living in the churchyard.
---
We counted all the mini beasts as part of the Love Your Burial Ground week and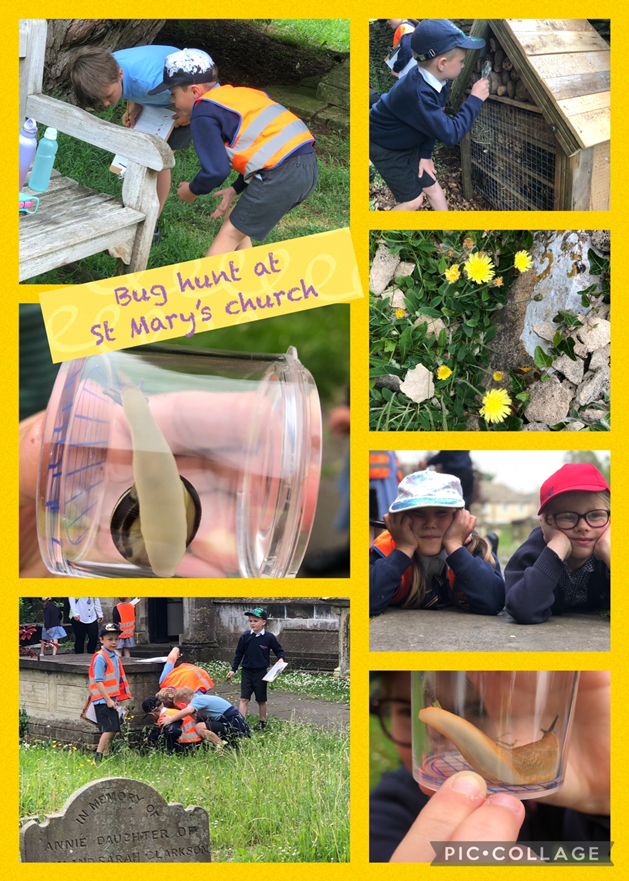 the churches Count On Nature Week. All the children were well behaved and so engrossed in their work that at the end of the morning they had to be dragged away!!
We would like to say a huge thank you to the Tetbury Lions who have donated money to the school for new and exciting books.
---
This funding will enable teachers to buy fascinating new books to support our English and to bring our topics to life across our geography, history, science and other curriculum areas. The books we will be buying will all form part of our Reading Roads over the next year.
We are very grateful for their support.
All books will be purchased from the Yellow Lighted Bookshop in Tetbury.