School News
If you closed your eyes and imagined the perfect day for you, what would it be like? Or do you remember a day from your past that seemed perfect in every way? How would you describe it?
---
Tetbury Goods Shed Arts Centre is asking young people in Tetbury and the surrounding area to send them their stories, poems or essays on the subject of the 'The Perfect Day'. The winning entries chosen by the judging panel will be published on the Tetbury Goods Shed website and each winner will receive a voucher to spend in the The Yellow-Lighted Bookshop in Tetbury or Nailsworth.
For full details please visit their competition page .
We believe reading can take you into a different world and give you a bit of magic.
---
So we were delighted to recieve a wonderful gift of books from the Yellow Lighted Bookshop in Tetbury, thanks to their Books for Schools donation initiative.
Thank you to Yellow-Lighted Bookshop and everyone who made a donation.
Following the Government's announcement on the 4th January our school will close. Remote learning will commence on Thursday 7th January for most pupils.
The school will be open for onsite learning for children of key workers, Looked After Children, children with EHCPs and vulnerable children from Thursday 7th January.
Happy New Year - I hope you had a good festive break and managed to spend some time with your families.
You will most likely be aware that the National Education Union is calling for the government to close all primary schools at the start of term due to the rising numbers of coronavirus infections.
Thank you to St Mary's parents for their amazing generosity. Today we donated to £809.62 to Crisis, the charity for homelessness.
The children in Cherry and Lime classes performed their Nativity plays this morning in front of a socially distanced audience for the first time!
---
They all sang so well and both plays were fantastic! We had the usual hiccups with wonky head dresses and teachers getting the lyrics wrong - good job the children knew what they were doing!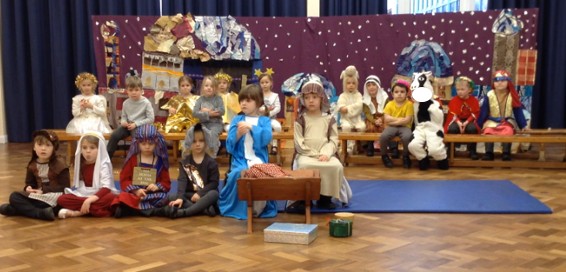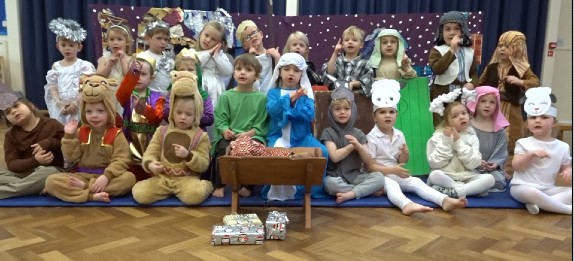 Thanks to Katie Rowlett who kindly recorded the shows so the Reception parents can watch virtually.
We can't wait to show the performances to the children's grown ups!
Merry Christmas
Mrs Pike
Each year Tetbury Town Council run a competition at St Mary's to choose a child to help with the switch on of the Tetbury Christmas Lights.
---
Tetbury Town Council were very impressed with the quality of the entries and The Mayor has written to all the children expressing her thanks:
'Tetbury Town Council has been absolutely blown away by the amount of spectacular pictures drawn by you all to represent the Twelve Days Of Christmas. To us, each and everyone of you who entered are winners, and we can highly commend all of the entries.
Thank you each and every one of you who took the time to enter, I would also like to wish you all a Very Happy Christmas!
Mayor – Tetbury Town Council
The winners of this year's competition were:
Dorothy H

Tom C

Evaleigh J
The runners up were:
Kit H

Joshua E

Hallie B

Thomas H

Martha FM
The results were announced in school today and winners and runners up received their prizes.
Parents of the winners will be contacted by Tetbury Town Council to make arrangements for the switching on of the Christmas lights.
Thanks to a successful Tesco's bid and funds raised by our wonderful PTFA we have had some colourful and exciting playground markings painted on the Early Years/KS1 playground this week.
---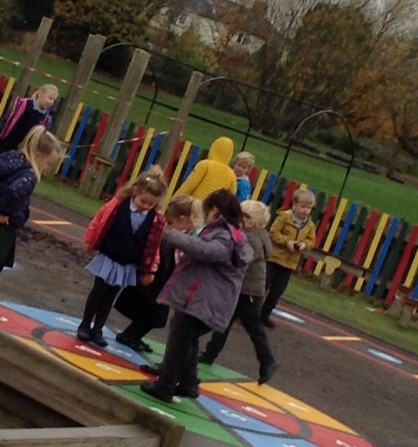 The children have really enjoyed playing on them today – it has made playtime very exciting.
We would like to say a HUGE THANK YOU to the Coventry Building Society for their recent donation of £1,990.80.
---
Each year the Coventry Building Society in Tetbury donates 1% of the total balances held in their Supporters Accounts (School PTA), this is separate to the interest given to the account holders.
This year this resulted in a donation to the school of £1,990.80 which will help us to provide pupil laptops this academic year.
Details of the Supporter Account which is offered by The Coventry Building Society can be found on their website www.thecoventry.co.uk or by phoning their Tetbury branch on 01666 502692.
In turn, this week, we donated some pupil tables, chairs and filing cabinets that we no longer need to a school and hospital in Gambia. It will take them about 3 months to arrive at their destinations but we know they will be much appreciated by the children and staff when they do.
Thank you and well done to all those children who took part in the bonfire art competition organised by Upton Mill Care Home.
---
There were an amazing amount of entries and Upton Mill Care Home said...
"Wow!! What amazing pictures, our residents really had their work cut out for them, they were all so brilliant. They really enjoyed their afternoon judging and had to have a little tea break in between as they were exhausted bless them. After a few hours they came to a decision who were the winners but we really think they were all winners. Thank you to all the children who entered, it really made them smile, which is priceless."
Thank you also to all local businesses who donated the prizes.
All children who took part received a certificate today and prizes were given to the winners.
KS1
1st Prize - Darcy S - Hobby Craft Voucher
2nd Prize - Archie B - Milkshakes at Cafe 53
3rd Prize - Sophie P - Yellow Lighted Book Voucher KS2
1st Prize – Emily C - Make Your Own Pizzas at The Priory
2nd Prize - Lilleigh S - Cinema tickets at the Goodshed
3rd Prize - Martha FM - Yellow Lighted Book Voucher