Smashing it to Silver!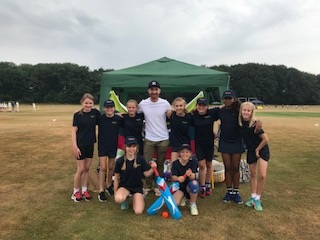 What a day Thursday was for our girls cricket team!
We travelled to Failand in Somerset to take part in the Regional Kwik Cricket Finals playing other county winners from Dorset, Hampshire, The Isle of Wight and more. So many people showed us great support. Tom Smith, who plays cricket for Gloucestershire, came along to support us and gave us some fab tips and Able and Cole provided us with yummy fruit for the day and Vita Coco sent us some coconut water too!
The girls showed great determination and strength throughout all of their matches and won all games in the morning to reach the finals. The final match was tough and the girls were tested. Both teams played magnificently and are delighted to announce that we came second in the Regional Final competition and came home wearing silver medals.
We are the first sports team from St Mary's to reach a Regional Final.
Girls, you have done us proud and brought tears to our eyes with your solidarity and grace as a team. You have all grown so much and you have a special bond.
BE PROUD OF YOURSELVES AND ALWAYS BELIEVE.