Flu Vaccinations for Reception to Yr4
From September 2018, children in reception class and school years 1 to 5 will be offered a flu vaccination at schools in Gloucestershire. The vaccine will be administered by nurses from Gloucestershire Care Services NHS Trust.
The vaccine will help protect your child from what can be a very nasty illness. It may also reduce the chance of others in your family who could be at greater risk of flu – such as grandparents or those will long-term health conditions – getting flu from your child. In areas of England where the flu vaccine in schools was piloted, less flu was detected across all age groups.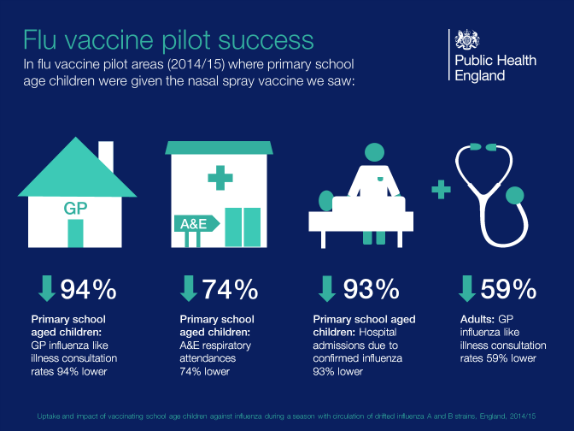 The vaccine will be given as a nasal spray, which cannot cause flu but will build up your child's immunity to the virus. There may be minor side-effects including a runny nose, headache, tiredness or some loss of appetite.
Two short videos on the vaccine is available here and and here and more information is available on the NHS Choices website by following this link. Information and leaflets for download are available on the Gloucestershire Care Services NHS Trust website here.