Before & After School
Breakfast Club
---
Our Breakfast Club is run by Mrs Wilmott, Mrs Ravenhill, Mrs Healey, Mr Knight and Mrs C Smith from 7.45am to 8.45am each school morning.
Children choose their breakfast from a range of options typically including cereal, porridge, toast, fruit, yoghurts and beans on toast. They also have the option of milk or fruit juice. The bread is very kindly provided by Hobbs House Bakery in Tetbury.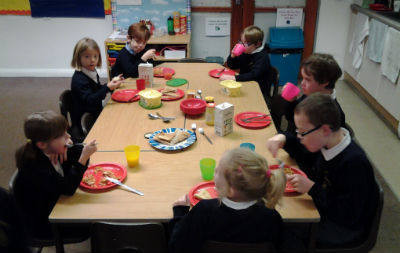 Following their breakfast the children can either play inside or outside.
Breakfast club is £3 per morning per child and you can either book regular sessions or as and when required. To book a place or for more information please contact the School Office.
After-School Club
---
SWR Leisure provides a local After-School Club from 3:15 to 6pm at the SWR Leisure Centre in Lowfield Road. They will personally collect your child from their playground at the end of the school day and transport them to the Leisure Centre via minibus.
They also run Day Camps during each of the school holidays from 8am to 6pm.
To book or for more information please contact them directly on 01666 501086 or This email address is being protected from spambots. You need JavaScript enabled to view it..
We are excited to share that we are putting plans forward for an After School Club onsite at St Marys. Our aim is to be up and running from September 2017. Watch this space for more details.