Every Day is an Open Day
At St Mary's we recognise that choosing a school for your child is one of the most important decisions you will make. Children in our care thrive; developing curiosity about their world, a caring attitude to each other and the confidence and courage to feel that they can have a go.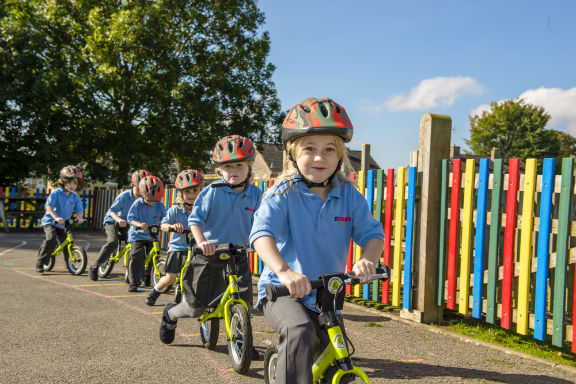 We are happy to show you and your child our school, talk you through the admissions procedure and give you the opportunity to ask any questions you may have. If you would like to arrange a visit please call us on 01666 502275.
Another great way for you and your child to meet us and other parents and experience the school is to come to our toddler and baby group, St Mary's Saplings. This runs every Wednesday from 1:45pm to 3pm. It is free and everyone is welcome. Please come and join us.
Starting in Reception in September 2019
If your child is due to start school in September you should have been notified as to which school your child has been offered a place at.
If your child is offered a place at St Mary's we would like to welcome you and your child to the following events which take place between now and September. These events will help familiarise your child with our school before they start in September.
Preschool Liaison 2019
Wednesday 3rd April 9.30-11.00am

Multi skills sports event

(at Sir William Romney School)
Thursday 16th May 2.15pm

Peppa Pig Muddy Puddle Walk

(Charity walk for Save the Children – parents and children welcome)
Wednesday 19th June 6pm-7pm

New Parents Meeting

(for parents of all children starting at St Marys school in September 2019)
Thursday 27th June 9.30am

Sports Day

(Preschool race 9.40ish!)
Wednesday 10th July

'Moving up day'

10.30-12.00 (Children come to school for a session in the classroom)
Wednesday 10th July

Teddy Bears Picnic 2pm-3pm

(Parents and children welcome)
Starting in Reception in September 2020
If your child is due to start school in September 2020 you will recieve an application packs from Gloucestershire County Council in early November 2019.
We recommend that you visit the schools you are considering before you apply. We will be holding and Open Day in mid October when we will enjoy showing you our school and answering any questions you have.
The following documents are relevant to the Reception intake into our school for September 2020.
In-year Admissions
If you are thinking about moving your child from another school to St Mary's please contact the school office on 01666 502275 in September. If you are moving into Tetbury during the summer holidays please contact us via email (This email address is being protected from spambots. You need JavaScript enabled to view it.) to apply for a place. We will be very happy to organise a visit for you come and see our school and guide you through the process.
Waiting Lists
If the school is oversubscribed, a waiting list will be held for (at least) the first school term (ie until December). The waiting list will be prioritised according to the school's oversubscription criteria.
Appeals
When a request for a place at a school is refused parents have a right of appeal to an independent panel. Information on the appeal process and the appeal form can be obtained from the school office.